The Core Deployment Decisions of Microsoft Teams Explained
Microsoft Teams is offering brilliant features and abilities to assure an all new level of collaboration and organizing for your team. In order to get the right results, you need to make sure that the settings are configured in such a way that is suitable for your business requirements and needs. The default settings work for some but for some others, it needs to be configured in a better way for optimum outcome.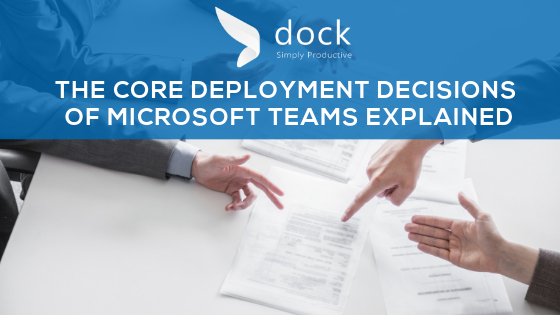 Here we would like to introduce you to some core deployment decisions that you need to make. This will make your Teams experience great.
Teams Administrators
There are a set of custom administrator roles that allows you to manage your organization's internal teams. Each role is assigned with different capabilities.
Meeting Policies
By setting the meeting policies you can determine what capabilities are provided to users once they enter Team Meetings. Either use the default policy or create custom meeting policies.
Meetings Settings
By utilizing the meetings settings, you can define whether anonymous users can enter teams' meetings, setting up meeting invitations, etc. Furthermore, you can turn on QoS by configuring the ports for real-time traffic.
Reporting
You can analyze the activity reports to understand how your employees are using Teams. This allows you to invest in training and efforts to improve communication, productivity, and collaboration.
Meeting Room and Personal Devices
For ideal outcomes, you need to consider using Teams devices like headsets, cameras, room systems, and phones. Consider purchasing personal devices for users and setting up room system devices for conference rooms when required.
Audio Conferencing
This is important for organizations with additional entry points to meetings. This is allowed by letting the meeting's participants join a meeting via a public switched telephone network by dialing in using a traditional landline, mobile phone, or private branch exchange.