SharePoint Intranet Portal Development a guide for 2021
SharePoint intranet portal has proved itself to be the best corporate collaboration solution. There is also a whole lot of marketing possibilities in SharePoint intranet portal development. Entire teams have been working for this goal. We have in our previous blogs discussed how an intranet portal affects the company culture and the benefits of a custom SharePoint development. SharePoint offers endless possibilities on this front. Everyday innovations are being introduced into Microsoft 365 and its related products to better this process, make it a seamless experience.
Intranet once implemented will become an important part of the organization. It will be the one centralized location for all employees to share information, access information, collaborate, and much more. Intranet portals these days are built to even incorporate other enterprise solutions like project management, contract management, board management, help desk software, etc. The intranet portal is becoming the one-stop solution for all enterprise solutions. By bringing all these solutions under one solution that is the intranet portal, it becomes easy for the users to access these resources.
When resources are easily accessible the more users will start using them, adoption rates will increase. It will not account for any real progress if you have implemented a solution and the adoption rate is low. Low adoption rates can also happen due to many other reasons, like an intranet portal that is packed with features, features that might not come to use for the users, it will confuse the users, the whole point of intranet portal is to streamline the day to day activities at an organization.
That is why it is important to analyze the situation at your organization before adopting or implementing an intranet portal solution. Study the requirements. Only implement what is needed at the organization. This is where custom SharePoint intranet portal development proves to be useful. Since SharePoint is very flexible, organizations can develop it to fit their organizational environment. Your intranet portal should be unique, one that is tailored for your organization, if you adopt the same intranet model of another party, you cannot expect it to serve its purpose at your organization. Companies differ in their way of work.
It is a known fact that you must plan each and every step in a project, for it to become a success in implementation. Similarly, before implementing an intranet portal at your organization create a plan. Set a goal, understand the key purpose the intranet portal will serve at your organization. Intranet portal could have many purposes for an organization, but at the core, the reason you adopted it, might be for business automation or to improve HR processes. These core use cases should be the decisive factors in choosing the key intranet features.
Decide on the user groups that will be using the intranet portal. Instead of just using one interface for all departments, you could create independent department portals within your intranet portal and assign user groups to use these pages for their day to day activities. Using SharePoint intranet portal development, you can easily create a site and subsites for your departmental collaboration requirements. It is also important to periodically evaluate the progress of the intranet portal once it is implemented. This will ensure proper adoption and smooth running of the solution. Now let us take a look at the important features or points to be considered in SharePoint intranet portal development in 2021.
Emphasis on the Homepage
The homepage of an intranet portal has an important part to play in the success of the intranet portal. This is the landing page of the intranet. It is essential to design the intranet portal as a showstopper. A very good amount of planning should go into designing your intranet portal home page. It is also important to make sure that you do not overcrowd the intranet page with features, which would be a setback in your plans.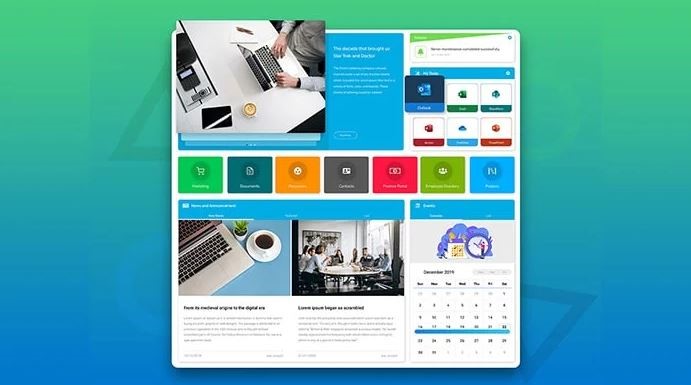 When a user logs in to the company intranet portal, they should be seeing only what they want. Here are some points to consider in designing the homepage.
The homepage can contain information like company news, achievements, or other announcements. Design specific sections for this. As you can see in the above image, a custom content carousel on top will show some content, like announcements or achievements.
Include a quick links section. Links to department pages, lists, document libraries, and links to other enterprise solutions both third party and those based in SharePoint, making way for easy access.
Could also include sections that highlight social events, like birthdays and anniversaries.
A dedicated web part to showcase company news and other related news.
A homepage that is very well planned could ensure the success of the intranet portal to a greater extend. Another important point to remember in designing a company intranet portal is branding. You must design your intranet portal with proper branding. A properly branded intranet site will reassure the employees' trust and loyalty in the organization. Which in turn will drive productivity at work. It is essential to emphasize the design of the SharePoint intranet portal homepage, for a failed homepage will result in a failed intranet portal.
Enterprise Solutions to Consider with Intranet Portal
It is normal for companies to be depending on enterprise solutions to streamline their daily activities. There could be multiple resources like this in a company, that are being used every day. A SharePoint intranet portal can include links to these applications as we discussed earlier to simplify the accessibility. While it is the sole discretion of the corporate, which enterprise solution their company is using, wouldn't it be easier if these enterprise applications are also based in SharePoint? Think about the impact it could have on the work environment. Here are three major enterprise solutions that are built on SharePoint that could be integrated with your SharePoint intranet portal.
Project Management Solution
Brilliant project management is the secret behind the success of all major companies. While project managers have a great role in this, it is also a matter of empowering these project managers with the right tools.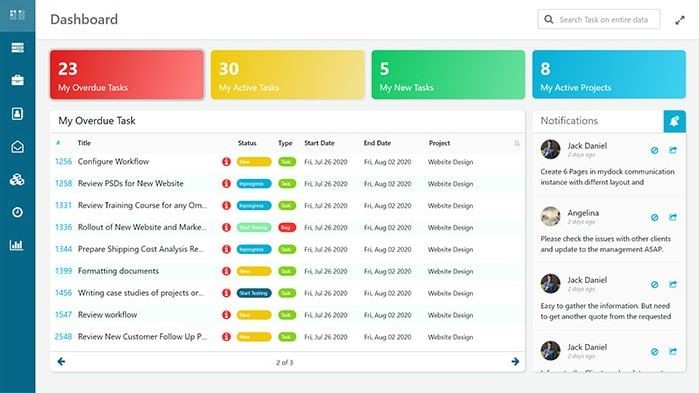 A project management solution that leverages Microsoft 365 and SharePoint ensures seamless project management and helps businesses meet their objectives and improve their success rates. Here are some amazing features to expect in a SharePoint based project management solution.
Task Management
Instant Feedback Options
Unique and Customizable
Client Request Management
Time Management
Custom Access Control
SharePoint based project management solution effectively avoids the complexity of conventional project management and its confusing workflows. Managers can stay on track with the projects and ensure proper execution of the projects.
Learning Management System
You might be thinking about why a learning management system is important in an organization. Well, as you all know, work culture as we know it has seen some great changes in the last year. The majority of the workforce is working from home and news coming about many companies intending to continue this mode of work even after the pandemic. Because of its low costs and some studies even indicating that remote work is positively affecting the productivity of employees. So, it is obvious that remote work will continue even in the coming years.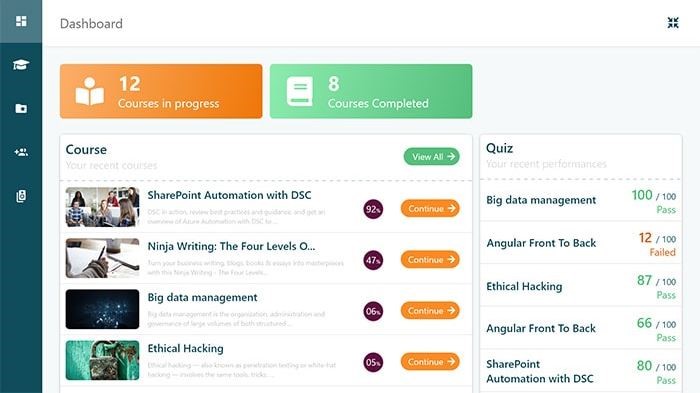 Remote work has shifted all major activities in an organization to a virtual platform. Even onboarding new employees. What about once they come onboard? How do you plan on training these new hires? If your answer is video conferences and calls? Then you could be wrong. While video conferences and calls can be used for this cause, there are many limitations to that. We are talking about the personal touch in learning, new people need to understand fully what they need to be doing and how they need to be doing it. That is why a learning management system is essential for organizations striving for success in 2021.
This digital learning platforms streamline the company's training processes and enable them to focus on employee training. The tools enable the employees to achieve more and be more productive from day one. Here are some amazing features of a learning management system.
Easy Learning
E-Learning Courses
Reporting and Tracking
Content Friendly Architecture
Gamification
Automation
Access Control
Custom Notifications
Training new hires do not need to be a painful task. Neither does it have to be time-consuming nor a burden on the finance. With a learning management system, you can streamline training processes and new hires can start working on their tasks efficiently as fast as possible.
Help Desk Software
An exceptional help desk solution is as equally important as project management in an organization. Customer satisfaction is a major factor in building the company's reputation. When the customer support is of top-quality clients will keep coming back and new companies will sign up for services.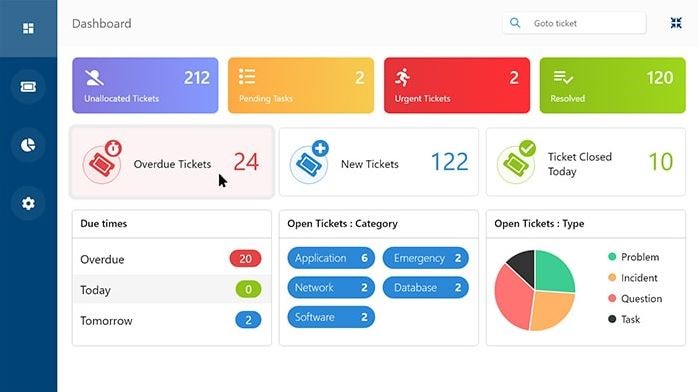 Since remote work has changed the way we usually deal with many things in a company, customer support has also seen drastic changes. Many innovations have been introduced in the help desk software development. Take a look at some of the exciting features of modern SharePoint help desk software.
Automatic Ticket Creation
Task Management
Customized Dashboard
Integrated Asset Management Capabilities
Simplified Conversational Capabilities
Report Generation
A SharePoint help desk software could be the best tool your customer support team can use to streamline their processes and stay on top of their customer support tasks and activities. It will also be a great productivity boost for the team.
Understand the SharePoint Sites
Before you start SharePoint intranet portal development, you must understand the different SharePoint sites that exist. There are several SharePoint sites that have their own individual purposes. It is important to understand that the type of top-level you can create is depended on the version of SharePoint you are using. For example, in Microsoft 365 and SharePoint 2019 versions, the top-level site you can create are Teams Sites and Communication sites.
Team sites are mostly used for collaboration needs. It connects employees or teams to the content, information, and apps they rely on every day.
On the other hand, communication sites are more like information sharing sites. You can use these sites to share information with others. Like News, Achievements, Reports, and Status. Communication sites offer many visually pleasing formats to share this information. There are literally a dozen other sites offered in SharePoint, that differ based on the version of SharePoint you use. Microsoft provides a very detailed document for using templates to create different kinds of SharePoint sites.
Along with these there are many other SharePoint based solutions that companies to make their organizational processes. Contract management is an example.
Conclusion
The widespread acceptance of the SharePoint intranet portal can be accounted to the great flexibility and uniqueness it offers. Many planning and decision making go into an exceptional and successful SharePoint intranet portal development. The same amount of concentration needs to be given to the management of the SharePoint intranet portal. Managers need to collect regular feedback from the users and update the intranet portal accordingly to ensure the proper adoption of the intranet portal at your organization.
Custom SharePoint intranet portal development can go wrong in many ways without the proper management of an experienced SharePoint professional. It would be a great decision to seek the advice of an experienced professional or even a team of professionals to assist you in the process. You can also find great support in forums or community platforms powered by Microsoft, like Microsoft Tech Community. These forums are used by many professionals worldwide, gather as much information you can before starting on an intranet portal. Understand your requirements and build the intranet portal to incorporate those requirements.
Once the intranet portal is fully set up, SharePoint admins can keep track of the health of the sites and control the access among sites. This is one of the most important advantages of using a SharePoint intranet portal rather than third-party software. The access control rests with you ultimately. Keep in mind these points while developing a SharePoint intranet portal and get the best results out of the process.