SharePoint Modern Web Parts You Can Use on a Page – Part 4
Web parts are some of the most important components of SharePoint sites or pages that help you increase the efficiency and ease of use of a page. Information and resources need to be made easy to access and shared. With the right web parts, you can make your site or page do it the right way. The first three episodes of this blog series introduced you to a lot of exceptional web parts that let you share, show and succeed in analyzing data and information well. Here is the last episode in this series that make the list complete. Check out the first, second, and third parts of the SharePoint Modern Web Parts to get the complete list handy. Here we go!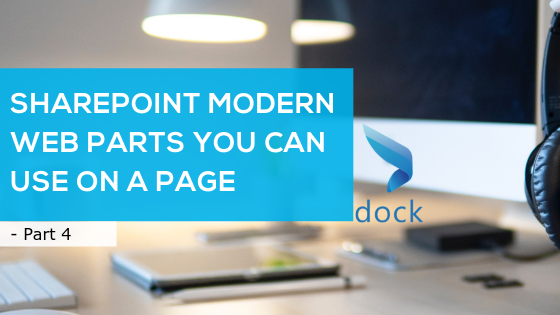 Site Activity
When you have a lot of users active on a site, it is essential to keep track of the site activities effectively. Site Activity web part can display the latest activities on the site such as edits, uploads, libraries and lists created etc. easily and automatically.
Sites
The purpose of the Sites Web Part is to show sites on a SharePoint page. Either choose the sites you want to display or pick according to Hub Site association/the ones frequently used.
Spacer
Want to control vertical space on your SharePoint page? Just add the space web part to your page as required.
Stream
By using the Stream web part, you can show videos from your organization's Microsoft Stream Video Portal right on your page.
Text
Add tables or paragraphs to your pages using the Text web part. There are also ample formatting options like highlighting, bullets, styles, links, and indentations that make the web part more meaningful.

Twitter
Showcase valid and relevant Tweets that your site visitors or users might find useful using the Twitter web part.
Weather
Display the current weather on your page using the Weather web part. Sometimes it is essential to know the forecast outside your office too.
Yammer
Yammer is an outstanding freemium enterprise social networking system. You can embed your official Yammer account into the SharePoint site pages to enhance collaboration.
YouTube
YouTube videos are conquering the world like never before and they are very influential nowadays. With the YouTube web part, you can effortlessly embed YouTube Videos into the page.
By now you have got a comprehensive idea about what you can achieve with this wide variety of SharePoint Modern Web Parts in your Site. Consider Dock 365 to double your organization's capabilities and efficiency. Here is everything you should know about dock!