SharePoint Modern Web Parts You Can Use on a Page – Part 3
Want to explore all about SharePoint Modern Web Parts? You are in the right place! We can give you a fundamental awareness about what people call building blocks of SharePoint pages or sites. This is the third part of the SharePoint Modern Web Parts series. We would like to recommend you look at the 1st and 2nd part of this series to get all overall understanding.
Let's get started!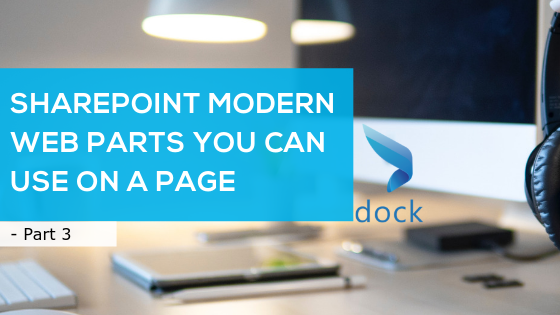 Office 365 Connectors
This web part can be used for alerts, messages, and notifications from your favorite services like Facebook, Trello, GitHub, JIRA etc. It is also possible to get summaries from Google Analytics and Salesforce on a group-connected team site page.
Office 365 Video
When you want to display a video from organization's Office 365 Video Portal right on your page, this web part can be used.
Page Properties
It displays your page properties and makes it easier to analyze page details quickly.
People
Use this web part to display or easily access team information, presenters, contact information and lot more. It is very effective in displaying information about a group of people and their profiles.

Planner
Utilize this web part to display your team's tasks and assignments on a page. It is done using Microsoft Planner.
PowerApps
As you know, PowerApps let even users with no coding experience create business apps for mobile and browser platforms. This web part allows you to add such apps to a page.
Power BI Report
Do you want to add an interactive Power BI report on your page? This web part can help. As the embedded reports are completely secure, you can easily develop secure internal portals.
Quick Chart
Add simple charts to your SharePoint using Quick Chart web part. Add labels, enter data points, pick chart type, column or pie and publish.
Quick Links
The function of the quick links web part is to let users' pin items to their SharePoint Pages for quick access.
Recent Documents
Make use of the recent documents web part to show documents that are edited or added recently, to make working with them easier than ever.
Stay tuned for the last edition in the SharePoint Modern Web Parts series. Do you know about Dock 365? If no, this is something you should know if efficiency, collaboration, and communication are the fields you are trying to improve in your workplace.