SharePoint Modern Web Parts You Can Use on a Page – Part 2
Learning about SharePoint Modern Web Parts gives you different perspectives on how to make a SharePoint Modern site cool. Considered as building blocks of SharePoint intranet development, web parts will help you to showcase a good variety of content and thus make the site do justice to its purpose. This is the continuation of one of our previous blogs that explained various SharePoint Modern Web Parts. Look at the first part of this blog to learn about more options. Let's give you an insight into the rest of the web parts in this section.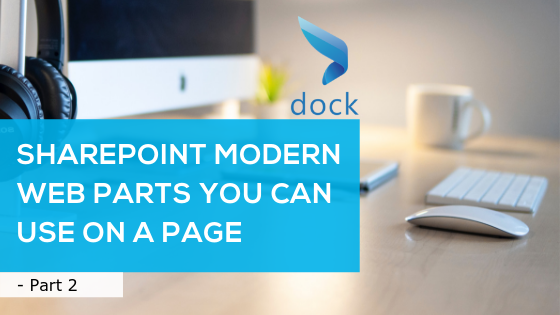 Highlighted Content
The function of this web part is to showcase content based on filtering, content type, or a search string. It is also possible to set the scope of the search to a site collection and sort the results.
Image
Images are wonderful sources to share information and to make a page attractive. The Image web part can let you insert an image to a page. You can pick the image from your site or from the hard drive.
Image Gallery
If you want to display a collection of images on a page, Image Gallery web part can help. Just pick the images using the file picker, or simply drag and drop onto the web part to get this done easily. You can also rearrange the images afterward if needed.

Kindle Instant Preview
Kindle Instant Preview web part will let you recommend or promote a book through your page/site. It allows you to display a preview of Kindle book in your page for the visitors to see.
Link
Adding links to documents, images, and external or internal pages is an important process. With this web part, you can get that done with ease.
List
The list web part allows you to showcase a list on the page. You can also customize it with a unique title, size, and view as required. The site visitors can view the list or visit the full list by clicking See all.
List Properties
This web part can be used to connect to a list web part placed on the same page. It will display the items from the list based on the selection of the users.
Markdown
You can add text to a page using this web part. You can also format it using Markdown language.
Microsoft Forms
Microsoft Forms web part can be used to create polls, surveys, and quizzes. It is also possible to connect responses and show it through the forms.
News
This is another fantastic web part that helps your team engaged and up to date with interesting stories, news, and other important information. It can also include, eye-catching posts, graphics, and rich formatting contents.
There are more web parts left in the list and we will continue with them in the next part. Meanwhile, let's give you a good insight into Dock 365.