3 Steps to Modernize the User Interface of a SharePoint Site
SharePoint Communication sites and Team Sites have excellent capabilities to keep your employees organized and connected. Communication site can spread our news and information across departments with great efficiency. Whereas a team site will keep your team connected based on the applications or information they access frequently. The most noticeable element common in both these modern sites is the modern interface. It will create a great impression across libraries pages, home page etc.
However, even after modernizing your SharePoint site, some of the wiki pages, lists & libraries, and web part pages will be in the classic UI. In order to completely modernize the User Interface of your SharePoint sites, you need to complete two tasks. Transition to modern list and library experience, and transformation of the site pages to modern client-side pages. Go through the following three steps to get this done.

1 – Select and train stakeholders
Before getting started, you need to ensure that the key stakeholders of your business are familiar with the modern user interface of SharePoint. SharePoint Administrators, key business stakeholders, change management and governance teams, and customization team & developers are the ones that need to be aware of the changes before the change really take place. This will be easier for the organization to adapt to the newest UI.
2 – Analyze site collections in detail
In the second step, you need to analyze your site collections carefully and find the right site collections that are suitable for the transformation. You can use the SharePoint Modernization Scanner to get a detailed analysis of the desired sites. You can also analyse their readiness to connect to an Office 365 group. Modern UI compatibility of the lists and libraries, deep analysis of web part and wiki pages are also factors clearly analyzed by the scanner.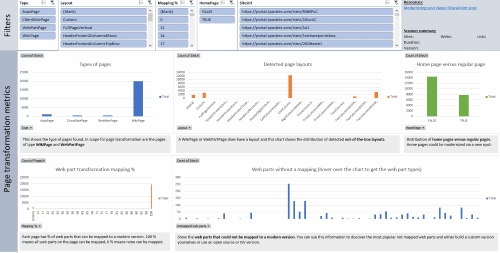 3 – Modernize the chosen site collections
Once the analyzing stage is over, you can get started with the actual modernization process. The first action in this process is replacing the incompatible customizations with good equivalents. The idea is to ensure that they work in the modern interface well. Enable lists and libraries to transform to modern UI, connect the site to an Office 365 group, and create modern client-side pages are some of the other actions that modernize your user interface.
And finally, communicate the changes in detailed with end users. So that they will be aware of the differences in the modern version.