How Dock 365 Simplifies Employee On-Boarding and Off-Boarding
Human Resource is one of the busiest of departments in an organization. Especially when it is about a large size organization, the responsibility and difficulty level will be high. Dock 365 consist of an advanced HR portal which can handle all complex tasks and challenges faced by the HR people. Employee onboarding and offboarding are among the most important tasks that need to be carried out with utmost responsibility and efficiency. Let's see how Dock simplifies these challenges.
Understanding the importance
At Dock, we understand the importance of the employee onboarding and offboarding processes more than anyone else. Dock ensures an amazing onboarding experience for every employee by providing an organized process. With an intelligently automated onboarding/offboarding process, the HR person can give instructions or assign tasks easily. It is also possible to assign tasks/guide the onboard team members to ensure a good onboarding experience for the new employees.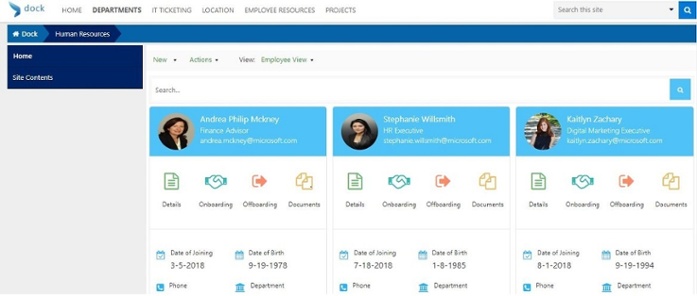 Ensuring a good first and last impression
As in the case of onboarding, offboarding is also a crucial stage in the life of an employee, which need to be a good experience as well. Providing a positive and fair offboarding is very important because your employees deserve it. It strengthens your brand image too. Employee offboarding in Dock 365 is easy as you can assign offboarding tasks such as exit interviews, recovery of company assets, and exit documents to the right people. It is also possible to set up an alumni group using yammer to inspire them to collaborate with the company in the future.
Task management and organizing documents
Unorganized and unattended tasks or responsibilities are the main reasons behind bad employee onboarding or offboarding experiences. With the feature to add tasks, check status, due date and set priorities, you can ensure best experiences for all your employees. State of the art document and note management capability is another strength of the Dock's HR portal. This enables companies to manage the extended onboarding and offboarding processes with ease.