An Essential Guide on Office 365 Network Connectivity Principles
Understanding the Office 365 Network Connectivity Principles gives you better chances in achieving the best possible performance. It will also help you to securely manage the Office 365 traffic. Thus, it is important to make a good understanding of these principles before planning your network for Office 365 connectivity.
Introduction to Office 365 Network Connectivity Principles
Microsoft has suggested a few principles to allow users to achieve the best Office 365 connectivity and performance. When connecting to Office 365, these principles will be very helpful in optimizing the performance. The main goal should be to minimize latency. This can be achieved by reducing the round-trip time (RTT) from your network into the Microsoft Global Network. This is Microsoft's public network backbone that interconnects all of Microsoft's datacenters with low latency and cloud application entry points spread around the world.
Understand and segregate Office 365 traffic
The first step in this process is Identifying Office 365 network traffic. It enables you to differentiate that traffic from generic Internet-bound network traffic. There are multiple approaches available to optimize Office 365 connectivity. Firewall rules, browser proxy settings, network route optimization, and bypass of network inspection devices for certain endpoints are some of the best examples. Fetch and work with Office 365 endpoints to make optimizations easier to understand and implement.
Egress Network Connections locally
In order to reduce connection latency, and to ensure that the user connections are made to the nearest point of entry to Office 365 services, you need to consider Local DNS and Internet egress seriously. Implement both local internet egress and local DNS together as it comes under a complex network topology.

Enterprise connectivity challenge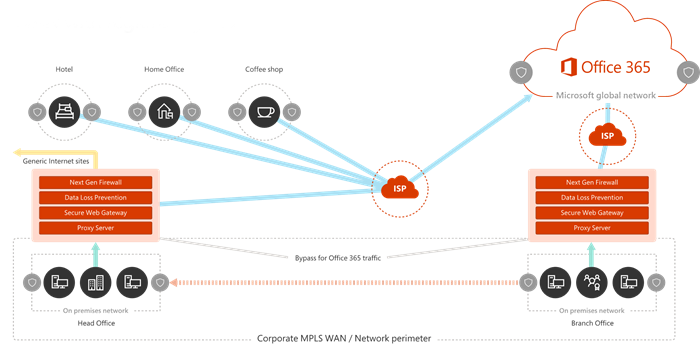 The diagram here shows a network topology that let users connecting from the main office, remote locations, and branch office to take the shortest route to the closest Office 365 entry point. As Office 365 runs on the Microsoft Global Network, it involves front end servers around the world. This increases the possibility of finding a front-end server close to the user's location. Provide local Internet egress and configure internal DNS servers to provide local name resolution for Office 365 endpoints. This allows the network traffic destined for Office 365 to connect to Office 365 front end servers as close as possible to the user.
We know your goal is to create a smart and efficient digital workplace for your employees. Dock 365 Intranet Portal is our answer to your quest.
Learn more about Dock 365 Intranet Portal
Dock is a Pre-Built intranet portal for your organization. It is powered by Microsoft SharePoint & Office 365. Dock also comes with project management, contract management, and many other business productivity features. Dock creates sustained, connections and conversations across the organization, promoting better employee experience and organizational performance.