5 Sensible Features of Dock 365's Contract Management Portal
Businesses need smart solutions to manage various processes that directly influence their success. Contract management is one of those areas that require great attention as it can become a nightmare if not addressed with great care and attention. With Dock 365's Contract Management Portal, you will get an excellent platform to handle all contract related tasks without causing any hassles.
Dock's Contract Management Solution is proof that technology can terminate all limitations, and let businesses manage their day to day processes effortlessly. Smaller or larger size teams or capital is not going to be a problem in contract management anymore. An online contract management solution delivers plenty of practical benefits to businesses of all sizes in many ways. Here are 5 sensible features of Dock's Contract Management portal.
Practical Dashboard Design
The biggest highlight of this portal is the real-time dashboard. It gives an overall insight into the contracts expiring in near future, the total value of the active contracts, number of vendors, and lot more in a single window. Get a graphical representation of the value of contracts in each department.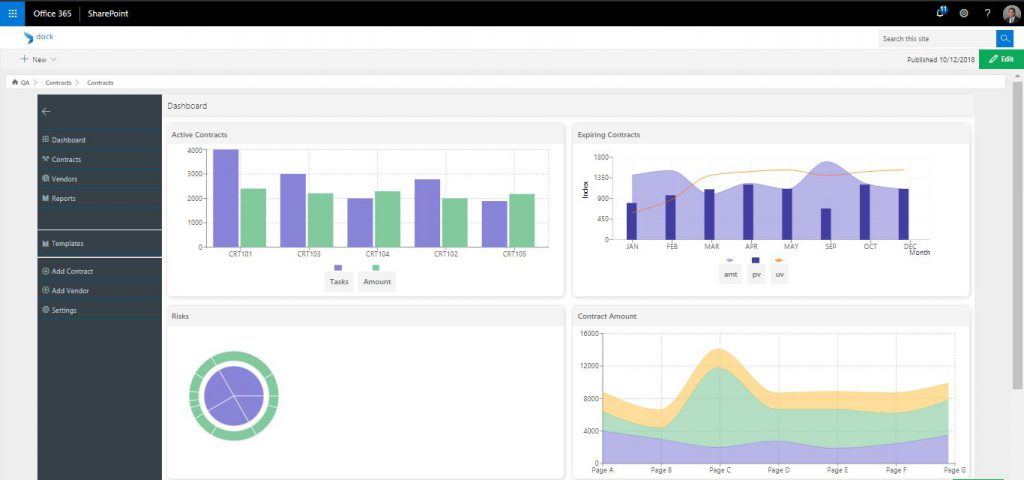 Dedicated Contracts Base
With a dedicated section to list all contracts, it is easier now to take actions and analyze them from one place. It can't get easier to perform tasks such as automating reminders, expelling unwanted renewals, renewing the right contracts etc. from one place. Get all information regarding a contract, like an expiry date, status, risk, stage, vendor and more.
Vendor Information Center
Not only contracts but Dock's Contract Management Portal allows you to add vendors too. This way you can keep their contact information and all other relevant information easily accessible. There are also good search and filter facilities to find vendors from the list quickly.

Visually appealing reports
Reports powered by Microsoft Power BI is another highlight of the portal. Visually appealing reports and data analytics makes analyzing and optimizing process intriguing. Say goodbye to the boring graphs and charts.
Powerful and secure
Moreover, it is powered by Microsoft SharePoint and Office 365. The user-friendly and visually appealing interface makes it easier to utilize all its features and facilities easily.